Healthy Living Magazine puts the spotlight on Ocala Eye Surgery Center for offering customized care from a highly dedicated team.
The Ocala Eye Surgery Center performs only eye procedures. The accredited center emphasizes safety, quality and commitment from a team that includes 13 highly trained surgeons using state-of-the-art technology and techniques and implementing a customized approach to each patient.
"The biggest reason that our surgery center is special is that every person in the facility is dedicated to working on eye care and they're familiar with the procedures and they're familiar with the common questions, so I think it's a really reassuring environment," says Dr. Jodie Armstrong, an ophthalmologist who has worked at Ocala Eye for 13 years and specializes in laser vision cataract surgery.
"The level of detail and clinical skill is really great at our facility."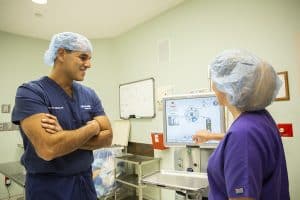 The Ocala Eye Surgery Center has four dedicated main operating rooms and two dedicated minor ORs, a LASIK suite with two lasers dedicated solely to LASIK surgery and a second laser suite that utilizes a femtosecond laser to assist in cataract surgery. A femtosecond is the speed at which the laser fires. Two other laser suites are used for retina, glaucoma and floater treatments. "The entire surgical staff, from scrub technicians to anesthesia providers to nurses, are well-trained in eye procedures," Dr. Armstrong says.
"Ocala Eye performs advanced cataract surgery, meaning the center uses the most up-to-date techniques, preoperative screening and customized care to get the optimal outcome for each patient," says Dr. Mohammed K. ElMallah, M.D., who specializes in laser vision cataract surgery and glaucoma surgery.