Advanced Cataract Surgery
Reclaiming Youthful Vision
Cataract surgery has undergone tremendous technological advances over recent years. Today it is easier and more precise. No longer does the procedure simply restore your distance vision. Our goal is to provide you with options for vision to match your lifestyle, including Advanced Lifestyle Lenses designed to provide you with a full range of vision while minimizing your dependence on glasses.
What to Expect
Before advanced cataract surgery is scheduled, your surgeon will check your eyes and determine if you're a good candidate for the procedure. If advanced cataract surgery is recommended, your doctor will review the different package options available and give recommendations based on your visual needs and lifestyle. At Ocala Eye, each patient is given his or her own Vision Care Specialist that will take their unique measurements, review the procedure in great detail, and aid throughout the pre-operative process.
Cataract Surgery Step-By-Step
With modern cataract surgery, there are no injections, no stitches. You may be given mild medication to relax you, and you'll be awake and comfortable. Recovery is quick – you may resume most activities the next day.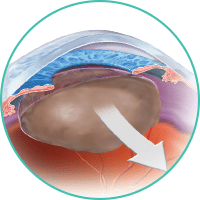 Step One
After making a small incision in your eye, our surgeons will insert a probe to break up and remove the cloudy cataract-affected lens.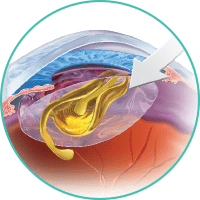 Step Two
The flexible lens implant is folded up and inserted into the remaining lens capsule. It then opens and its haptics, or "arms," unfold to keep it in place.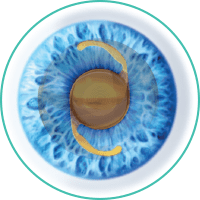 Step Three
With the cataract removed, and the new lens in place, light can once again travel unimpeded to the back of your eye, for clearer vision.
98% of cataract patients have improved vision after surgery!
Advanced Lifestyle Lenses
With advancements in technology, there are now many options available to renew your vision. Today's cataract surgery has the potential to not only eliminate your cataracts, but also allow you to regain your youthful lifestyle. For patients wanting to rid themselves of cataracts while also gaining more visual independence, Ocala Eye is happy to offer Advanced Lifestyle Lenses.
The Premium All-Focus Package provides the most independence from glasses at all distances.
Premium Multifocal Lens/Extended Depth of Focus (EDOF)
Astigmatism Correction
Provides excellent distance, intermediate and/or near vision with little to no dependence on glasses
The Premium Distance Package provides independence from glasses for distance vision.
Premium Monofocal Lens
Astigmatism Correction
Provides excellent distance vision
Glasses usually required for near and
intermediate vision
With the Standard Monofocal Package astigmatism and refractive errors are not corrected.
Standard Monofocal Lens
No Astigmatism Correction
Glasses usually required for all tasks
With an Advanced Lifestyle Lens, you may be able to see well for all your activities without glasses!
Recovery After Advanced Cataract Surgery
After surgery, you'll be prescribed eye drops that guard against infection and aid in the healing process. It is very important to follow the eye drop schedule given by your surgeon and Vision Care Specialist. Avoid rubbing your eyes, lifting heavy objects, and swimming for the first two weeks following surgery. Every patient will go through a series of post-op visits for several weeks following advanced cataract surgery to make sure the eye is healing properly.
Recovery time after surgery is generally quick and usually occurs within a few days. Most patients notice better vision soon after surgery and continue to see improvement in their vision over the following weeks.

Right After Surgery:
cloudy, blurry close-up, and halos and starbursts

Days After Surgery:
distance improved, near still blurry (for multifocal), night vision halos

Weeks After Surgery:
near is improving (for multifocal), night vision improving

Months After Surgery:
night vision problems still improving