The skin is the body's largest and perhaps most prominent organ. To improve their skin and cosmetic appearance, many patients turn to medical aesthetics for their care. What kinds of procedures are performed at a medical aesthetics clinic and how do patients benefit from these services?
Nicole has been a medical aesthetics patient at Ocala Eye since 2017, having enjoyed the benefits of various types of treatments over the years. She commends the certified medical team who have performed her procedures, saying they are "very professional, and they'll help you reach your skin care goals."
What Is Medical Aesthetics?
If you're looking for a clean, safe, and well-equipped facility to receive skincare treatments by medical professionals, a medical aesthetics clinic is the perfect place to start. Aesthetics is a branch of medicine focused on improving the cosmetic appearance of patients. Medical aesthetics is a separate subset of care delivery in a services industry devoted to helping patients have clearer skin and a better appearance.
Aestheticians are trained in how to beautify your skin. If they have advanced training, such as a registered nursing or nurse practitioner license, they may diagnose or provide treatment for conditions outside of cosmetic service offerings. They can flag a problem and refer you to a dermatologist or a plastic surgeon for specialized treatment, but the medical aesthetician is there to perform beauty care procedures alone.
With specialized training, various medical professionals provide aesthetic services to their patients, and these treatments require a great deal of skill, in part because the skin of the face is so delicate and important.
Trusting your face to anything less than a skin care medical aesthetics expert is simply too risky. That's why at Ocala Eye, our aesthetics services team is led by aesthetics advanced practice registered nurses and supplemented by licensed medical aestheticians and facial specialists.
Is a Medical Aesthetics Clinic the Same as a Med Spa?
There's often no real difference between a medical aesthetics clinic and a med spa, given that a med spa is a combination of an aesthetic medical center and a day spa that also provides nonsurgical aesthetic medical services under the supervision of a licensed physician.
A medical aesthetics clinic differs from the traditional day spa that offers facials, hair, and nails in that a med spa can offer medical procedures, which can't be performed at a day spa. Every clinic specializes in different things, so it's important to find out more about the facility you choose.
What Kinds of Treatments Can a Medical Aesthetics Clinic Offer?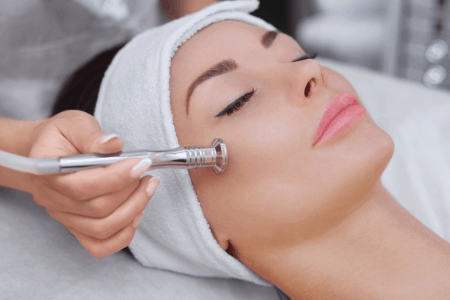 The typical medical aesthetics procedures offered at these facilities are nonsurgical in nature and designed to improve the skin. Some of the most common noninvasive procedures offered at facilities such as Ocala Eye include:
Botulinum toxin injections (Botox), a prescription medication injected under the muscle to reduce fine lines and wrinkles

Facials, or cleansing processes that exfoliate and nourish the skin of your face

HydraFacials

, which use a patented device to deep-clean, extract, and hydrate the facial skin

Injectable dermal fillers, or gels that are injected beneath the skin to plump out hollows, soften creases, and enhance the shape and appearance of the face

Laser hair removal procedures where concentrated light permeates the hair follicles to kill hair growth

Laser skin resurfacing in which concentrated pulses of light remove layers of skin cells to facilitate new, smoother skin growth

Microdermabrasion

, which uses a special applicator to gently sand away the outer layer of the skin to promote new cell growth
Nicole is a good example of the kind of patient we see at Ocala Eye. As a repeat customer, over the years she has had HydraFacials, Botox, and chemical peels. However, these are not the only types of procedures available. The list of the top five aesthetic medicine procedures performed at Ocala Eye includes:
Botox 

Dermal fillers

Laser hair removal

Microdermabrasion

Chemical peels
Over the past two decades, there have been many advances in the field of aesthetic medicine. These procedures are increasing in popularity. In fact, there's been a trend called the "Zoom boom," characterized as "a rise in demand for cosmetic procedures due to people who want to make changes after seeing how they look on screen."
Why Would I Need a Medical Aesthetician?
If you want to enhance your natural beauty without a surgical procedure, a medical aesthetics clinic like Ocala Eye can help. Your aesthetician can help you figure out your skin type and determine the best treatment to improve it. They can help with acne, erase old scars, treat hyperpigmentation, reduce the appearance of fine lines of the face including crows feet, "11 lines", and more…, provide a deep pore cleansing, and more.
If you have skin conditions that trouble you, making an appointment with a clinic like Ocala Eye is your first step toward an improved appearance. Nicole is a great advocate for our work. She says, "You can schedule your services online. Just visit ocalaeye.com!"