HydraFacials are gentle skin treatments that have a powerful effect on the appearance of your face, with benefits that include glowing, clear skin. 
These treatments are designed to relax, exfoliate, and hydrate your skin. These patented skin spa treatments keep you looking your best. Here's what you should know about HydraFacials for your skin.
What is a HydraFacial?
A HydraFacial is a medical-grade cleansing, exfoliation, and hydration of your facial skin. The procedure uses a painless technique called hydradermabrasion. 
In traditional dermabrasion, a small rotating handheld device is used to exfoliate away the top layers of skin. This can reduce fine lines, acne scars, and uneven skin texture. 
In hydradermabrasion, instead of blasting away the outer layer of skin, a gentler approach vacuums out the pores with saturating the skin with potent active nutrients to brighten, moisturize, plump, and protect the delicate layers of your face. The hand piece on the hydradermabrasion machine has tiny spiralized treatment types with vortex tips to smooth and suck away impurities, cleanse, cool, and hydrate.
The HydraFacial process includes four steps:
Detoxification with an impurity extractor called a hydra-vortex vacuum that removes dead skin cells and grimy debris

Debris exfoliation uses a non-irritating mix of glycolic and salicylic acid to hydrate the pores with a penetrating solution to loosen debris from deep inside skin cells

Vortex extraction to remote all the debris from the clogged pores in a gentle, relaxing process

Serum application of collagen and antioxidants into the cleaned pores to promote skin suppleness and hydration
The HydraFacial process is designed to not only remove deep down grime from your pores, but also boost the circulation of your facial skin and even stimulate the lymph system to naturally remove toxins. Can one machine do all this work in less than an hour? The answer is an unequivocable, "Yes."
What's it Like to Receive a HydraFacial?
Despite using words like "powerful" and "exfoliation" and "vortex," you'll be surprised at how gentle and relaxing this treatment is.
Like most spa aesthetic treatments, you recline comfortably in a treatment chair with the technician applying the treatment, which typically takes less than an hour.
There is no recovery time, just a relaxing application of a gentle facial pore suctioning and you can go on with your day looking and feeling better. The application itself lasts about a month and there is zero downtime needed.
What are the Benefits of a HydraFacial?
This treatment is appropriate for most skin types and it can help you:
Discourage formation of new blemishes

Eliminate blackheads and whiteheads

Evens out skin tones and reduces hyper- and hypopigmentation

Helps overly oily skin return to more normal levels

Hydrates and cleanses the skin

Reduces acne

Reduces sun damage and brown spots

Reduces the appearance of fine lines and wrinkles

Stimulate collagen production 

Tightens enlarged pores and cleanses skin impurities

Unclog pores
HydraFacial can be customized to fit your unique skin concerns. Worried about a blackhead breakout on your chin or an acne-prone nose? How about those dark circles from too little sleep? Fine wrinkles? The HydraFacial can be customized to treat these and many other concerns. This is a great skin treatment with real results no matter your age or skin concern.
Unlike other skin treatments that cause redness or skin irritation, there are no side effects from a HydraFacial. If you've skipped skin treatments because you were worried about the down time, you won't have to with the HydraFacial. There is no down time and the benefits are a smoother, younger, cleaner, and more relaxed appearance.
Can I Use HydraFacial with Other Skin Treatments?
Yes. If you go to the medi-spa or the dermatologist or Botox or other injectables like fillers, HydraFacial works just fine. You can have laser treatments or ablative light, too; HydraFacial is a customizable approach that works with your existing treatment plans.
There are multiple types of booster serums available with these treatments to brighten your complexion or reduce wrinkles and fine lines. There are even three different debris exfoliation serums to give you a deeper or more gentle skin peel, depending on your goal and experience. You can target the delicate dark circles under your eyes or even plump up your lips by having the esthetician lightly vacuum the skin flakes off.
Should I Get a HydraFacial?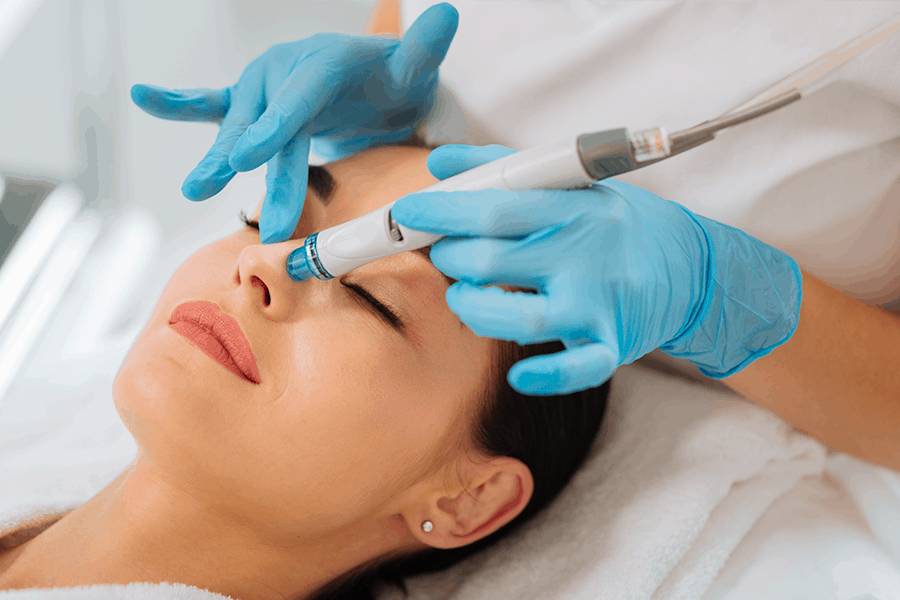 If you think the skin of your face isn't reflecting your best self, you should consider a HydraFacial. The procedure works well for:
Adults with problem-prone skin

Teenagers struggling with acne

Older people with hyperpigmentation or wrinkles

Skin with flaky spots or even pre-cancerous spots that worry your dermatologist 

Sun-damaged skin or skin with old acne scars
One of the benefits of a HydraFacial is the consistency of the results. The machine and patented technologies behind the treatment provide you with solidly consistent results without inflammation caused by overly aggressive human treatment techniques. HydraFacial is consistently as effective as it is safe.
Who Should Skip a HydraFacial?
Despite all the benefits of a HydraFacial, there are some people who should avoid the procedure. For example, if you have an active sunburn or some sort of rash, your skin is already irritated, so HydraFacial should wait until you heal. It's the same with patients experiencing rosacea, which is a common skin condition causing visible blood vessels and redness on the face. Also, some of the active ingredients in the HydraFacial treatment, such as salicylic acid, have not been tested for pregnant women, so it's better to avoid treatment during that time.
How Often Should I Receive a HydraFacial?
You can receive a HydraFacial every two weeks. While the benefits of a HydraFacial last about a month, this overlapping effect creates a cleaner healthier environment for your skin. The HydraFacial is designed for all skin types. Talk with Ocala Eye today to find out how you can benefit from the HydraFacial procedure. We're standing by to customize a treatment regimen for your skin type.