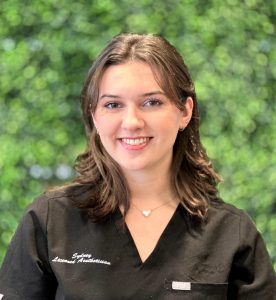 Sydney Thompson, LMA
Specializing in:
Aesthetics and Skin Care
About Sydney Thompson, LMA
Sydney Thompson, LMA, is a licensed medical aesthetician and facial specialist. She has been working in aesthetics since 2020 and has experience working in day spas and dermatology offices. 
Sydney was always interested in skincare and knew she wanted to pursue a career in aesthetics after high school. She has outstanding knowledge of skincare and cosmetic dermatology. She is passionate about helping people look and feel their best and looks forward to offering her clients personalized skincare solutions. Sydney graduated from the Aveda Institute in Orlando, FL.
Outside of work, Sydney enjoys spending time with her family and husband while renovating their new home.