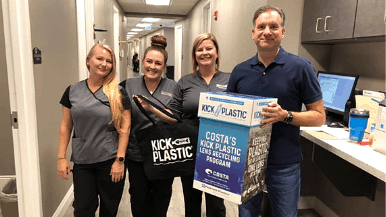 Ocala Eye has partnered with Costa to become a Kick Plastic Ambassador in an effort to reduce the amount of single-use plastic we use as a company, and to inspire the Ocala community to do the same.
As a Kick Plastic Ambassador, we're part of a growing movement dedicated to helping reduce the amount of plastic finding its way into our oceans and waterways.
Did you know plastic can now be found in almost every aquatic habitat on Earth, from polar ice to deep ocean trenches, harming marine animals from seabirds to sea turtles? It's estimated nearly 9 million tons of plastic end up in the ocean each year – and if people don't make changes, the rate of plastic flowing into the sea could double by 2025.
Through the end of the year, our Heath Brook office will be collecting plastic bottles and old lenses to help reduce plastic pollution. You can join us by donating your old lenses in the Kick Plastic recycling bins found in optical! We will also have teal recycling bins in the patient lobby where patients can recycle their plastic water bottles.
Plastic lenses are one of the biggest contributors to waste in the optical industry. By dropping your plastic lens waste in our recycle boxes, it'll be returned to Piedmont Plastics® and repurposed into new plastic products!
Stay tuned for more details about our Kick Plastic Ambassador program as it unfolds!