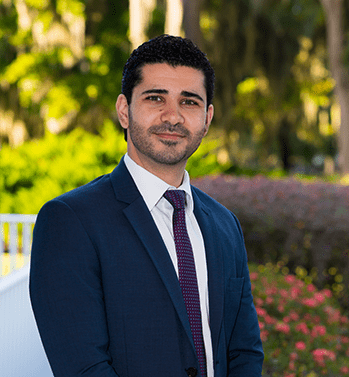 Hussain Elhalis, M.D.
Specializing in:
Premium Cataract Surgery, Refractive Surgery, Cornea Surgery and External Diseases
University of Florida | Gainesville, Florida

Cornea, Cataract, and Refractive Surgery Fellowship

University of Florida | Gainesville, Florida
Ross University School of Medicine | North Brunswick, New Jersey
Wayne State University | Detroit, Michigan
American Academy of Ophthalmology
American Society of Cataract and Refractive Surgery
What Dr. Elhalis' Patients Are Saying
"A very knowledgeable, courteous, excellent people skills, caring and honest. He never rushed me and always answered all my questions. Ocala Eye got a good one in Dr. Elhalis!"
-Karen B.
Hussain Elhalis, M.D., is a cataract surgeon in Ocala, fellowship trained in laser vision, cataract, cornea, and refractive surgery. He practices general ophthalmology with primary interests in refractive cataract surgery. He uses sutureless techniques and provides the latest in premium lens implant technology. His goal is to allow his patients the opportunity to regain youthful vision and greater independence from glasses and contact lenses. Dr. Elhalis also specializes in laser vision correction with LASIK and PRK, and corneal transplantation using the latest DSAEK and DMAEK techniques.
After graduating with honors in biological sciences from Wayne State University in 2005, Dr. Elhalis attended medical school through the scholars program at Ross University School of Medicine. He was awarded highest honors for graduating in the top five percent of his medical school class. It was during medical school that he developed an interest in ophthalmology.
"The field of ophthalmology has already achieved monumental advancements in cataract and laser surgery, resulting in outcomes that could not have been imagined three or four decades ago. The ability to provide these types of outcomes to patients was likely the greatest influencing factor that led me to choose ophthalmology as a career, " says Dr. Elhalis.
He then completed his internal medicine training at Henry Ford Hospital in Michigan. Dr. Elhalis completed his ophthalmology residency and fellowship specialty training at the University of Florida in Gainesville.
During his ophthalmology training, Dr. Elhalis cared for service members at the naval air station in Jacksonville, FL, treating ocular injuries and performing laser vision correction for pilots and navy officers.
In addition to his work at Ocala Eye, Dr. Elhalis is dedicated to educating patients and the public about eye health and the latest advancements in ophthalmology. He regularly shares his knowledge and insights on his personal website, elhalismd.com. Here, you can find a wealth of information on topics ranging from cataract surgery and LASIK to refractive lens exchange and more. Whether you're a patient looking to understand more about your eye health or a fellow professional seeking the latest in the field, Dr. Elhalis's website is a valuable resource.
Dr. Elhalis is an active member of the American Academy of Ophthalmology, Florida Society of Ophthalmology, Cornea Society, American Society of Cornea & Refractive Surgery, and the International Society of Refractive Surgery.
"It is an honor to help my patients achieve their best possible vision and improve their quality of life," says Dr. Elhalis.