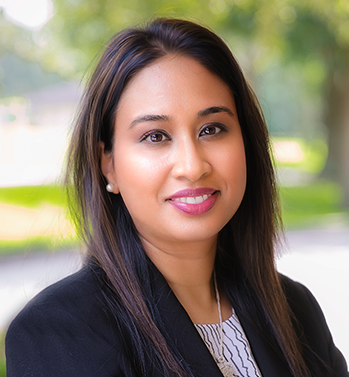 Hina N. Ahmed, M.D.
Specializing in:
Premium Cataract Surgery, Diseases and Surgery of the Anterior Segment
Scheie Eye Institute, University of Pennsylvania | Philadelphia, Pennsylvania

Ophthalmology, Glaucoma Service Fellowship

Case Western Reserve University | Cleveland, Ohio
Wright State University, School of Medicine | Dayton, Ohio
Dartmouth College | Hanover, New Hampshire
American Academy of Ophthalmology                                                                        

American Association of Physicians of Indian Origin
What Dr. Ahmed's Patients Are Saying
"Dr. Hina N. Ahmed is a blessing. Very professional. I highly recommend her. She will not rush you, she will sit and talk with you, your every question will be answered."
-RateMDs Review
Hina N. Ahmed, M.D., is a board-certified, fellowship-trained ophthalmologist and cataract surgeon in Ocala. She practices general ophthalmology with primary interest in advanced cataract surgery. Dr. Ahmed is skilled in the latest surgical procedures for cataract removal utilizing including small incision no-stitch techniques and enjoys providing comprehensive eye care for her patients.
Dr. Ahmed joined Ocala Eye in August 2005 after completing her fellowship at the University of Pennsylvania's Scheie Eye Institute. In 2008 Dr. Ahmed relocated from Ocala to Baltimore, Maryland and joined Omni Eye Specialists. There she continued to provide comprehensive medical and surgical eye care while focusing on community outreach and encouraging preventative eye exams. Dr. Ahmed was instrumental in building relationships with Baltimore area optometrists and co-managing patients with complex diseases. She conducted continuing medical education seminars for Baltimore and the surrounding communities. She rejoined the Ocala Eye staff in March 2011.
Dr. Ahmed graduated with a Bachelor of Science in biology from Dartmouth College where she garnered cum laude honors. Following her desire to study the systems of the body she set her sights on medicine. She attended Wright State University's medical school where she received recognition as a research fellow and earned her medical degree in 2000. Dr. Ahmed's core ophthalmology training took shape during three years of residency service at the Case Western Reserve University in Cleveland, Ohio. A medical school interest in histology led to a natural exploration of microsurgery techniques in the eye, including cataract surgery. Her caring approach towards her patients and their thorough medical care was recognized in June 2004 by being honored with the Humanism in Ophthalmology Award.
Dr. Ahmed is board certified by the American Board of Ophthalmology. Her professional affiliations include memberships in the American Academy of Ophthalmology, Florida Medical Association, and Marion County Medical Society.